I was sent several cookbooks in early December to review and I'm sorry to say that with all that has been going on I am only just now finally getting to them!
The first one I was sent was "The Everything Indian Slow Cooker Cookbook," by Prerna Singh. This paperback cookery book features 300 recipes and instructions for building a masaledaani (spice box), and shows you how to create authentic Indian recipes in just a few simple steps.
In The Everything Indian Slow Cooker Cookbook You'll Enjoy Crafting Delightful Delicacies Like:
Spicy Chicken Stew
Curried Tempeh in Coconut Cream
Chili Coconut Chicken (Mangalorian Murgh Gassi)
And Many More!
In all honesty I have not had time to use this book, but the recipes look sound and quite easy to do. I think if you enjoy Indian food, you would enjoy this book. The only drawback to my way of thinking is that there are no photographs and I really do prefer cookery books which have photographs. Realistically speaking however, most Indian food is not all that photogenic, so . . .
I do look forward to cooking some of the recipes once I get over my cold, and have earmarked several for trying.
The Everything Indian Slow Cooker Cookbook
by Prerna Singh
Published by Adams Media
ISBN - 13: 978-1-4405-4268-1
ISBN - 10: 1-4405-4168-X
$16.95 (CAN $17.99)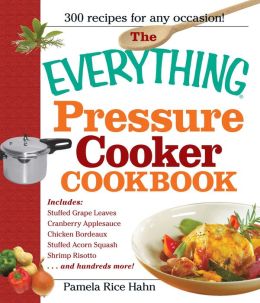 The Second cookbook I was sent was The Everything Pressure Cooker Cookbook, by Pamela Rice Hahn. I am afraid that I don't own a pressure cooker, so I won't be able to test any of the recipes in this book, as merely having the book doesn't justify the expense of buying a pressure cooker. I have always been slightly afraid of Pressure Cookers as when I was a child one of our neighbors had hers explode, burning her terribly in the process. I know that modern day pressure cookers are probably a lot safer . . . but I just have this fear of them.
From online:
Pressure cookers will boost flavor and cut cooking time a whopping 70 percent - but only if you know how to use them. In this cookbook, author Pamela Rice Hahn teaches you about the joys of cooking with a pressure cooker. No longer the dangers they once were, these time-saving devices are godsends to busy cooks everywhere. In no time, you can whip up:
Roasted Red Bell Pepper Pesto
Cranberry-Braised Turkey Breast
Balsamic Pork Chops with Figs
Halibut in Black Olive Sauce
Peanut Butter and Fudge Cheesecake
For that slow-cooked taste in far less time, a pressure cooker is the perfect solution.
The Everything Pressure Cooker Cookbook
by Pamela Hahn
Published by Adams Media
ISBN-13:
9781440500176
$16.95 (CAN $17.99)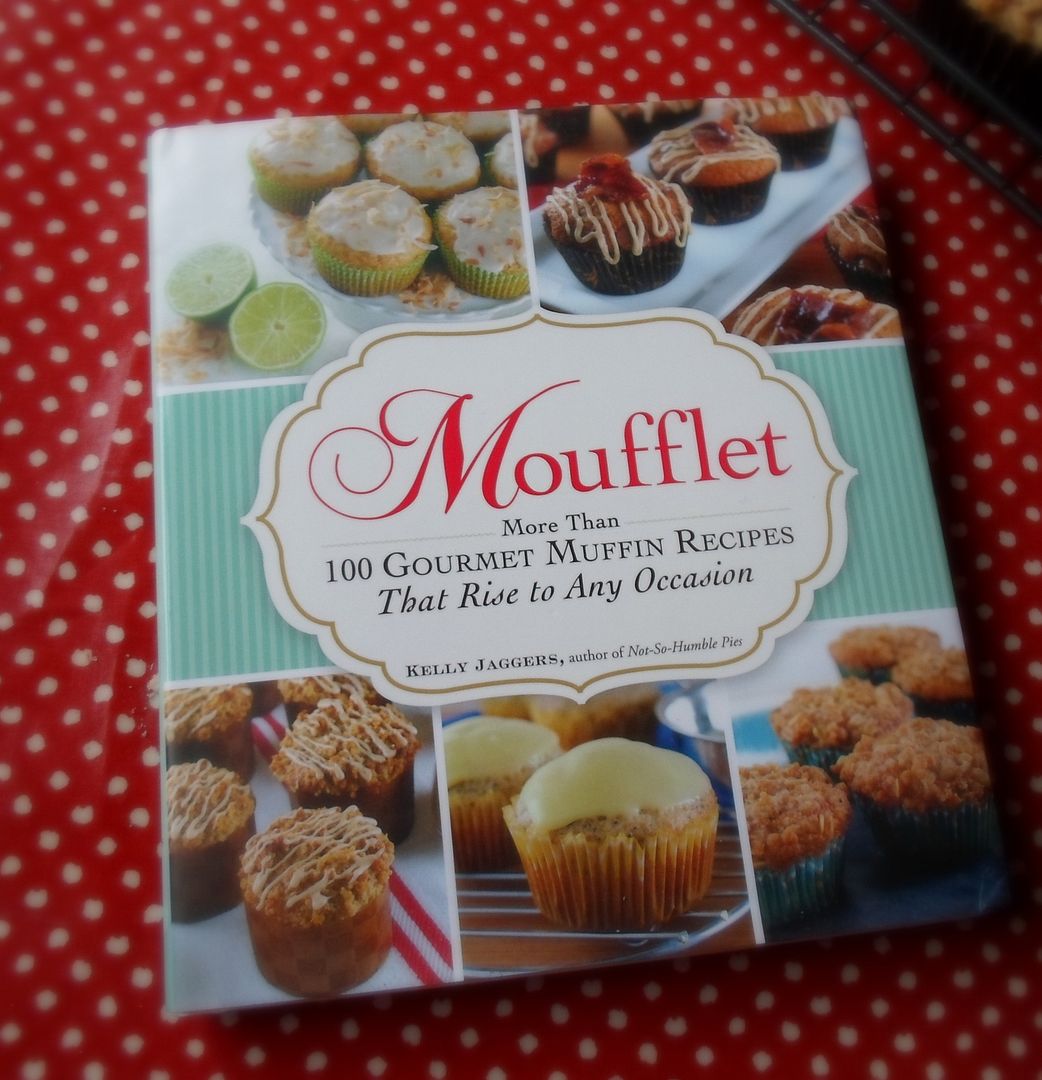 The
third cookbook I was sent was "Moufflet by Kelly Jaggers, author of Not So Humble Pies, and of the blog
Evil Shenanigans.
I love this book. I found it completely delightful . . . with fabulous photos and a beautifully tasty sounding selection of more than 100 GOURMET muffin recipes! I do love muffins, I do . . . I do . . . I do. In fact if there is any problem with this book at all it is that it's terribly hard to make up your mind which ones you are going to bake as each one sounds and LOOKS more delicious than the last! There are four chapters of muffins:
Uniquely Sweet Creations
Hearty Fruits, Nuts, and Oats
Brunch, Lunch, and Dinner Muffins
Savory, Spicy, and a Little Sweet
In addition to the muffin recipes, there are chapters on "Sensational Spreads" and "Crumbles and Glazes" to help you finish off your muffins and make them look like they came from a bakery instead of your humble kitchen.
Just about every muffin is covered: carrot spice, citrus cheesecake, cinnamon apple, lemon poppy seed, peanut butter, pumpkin, gingerbread, blueberry, peach, cranberry orange, strawberry, raspberry, and, of course, chocolate. But, for those of you who like to really pull out the stops in the kitchen, there's plenty for you, too, with maple bacon, sweet potato, spiced chocolate fudge, lemon serrano, salted caramel-glazed cherry, and apricot jalapeno muffins.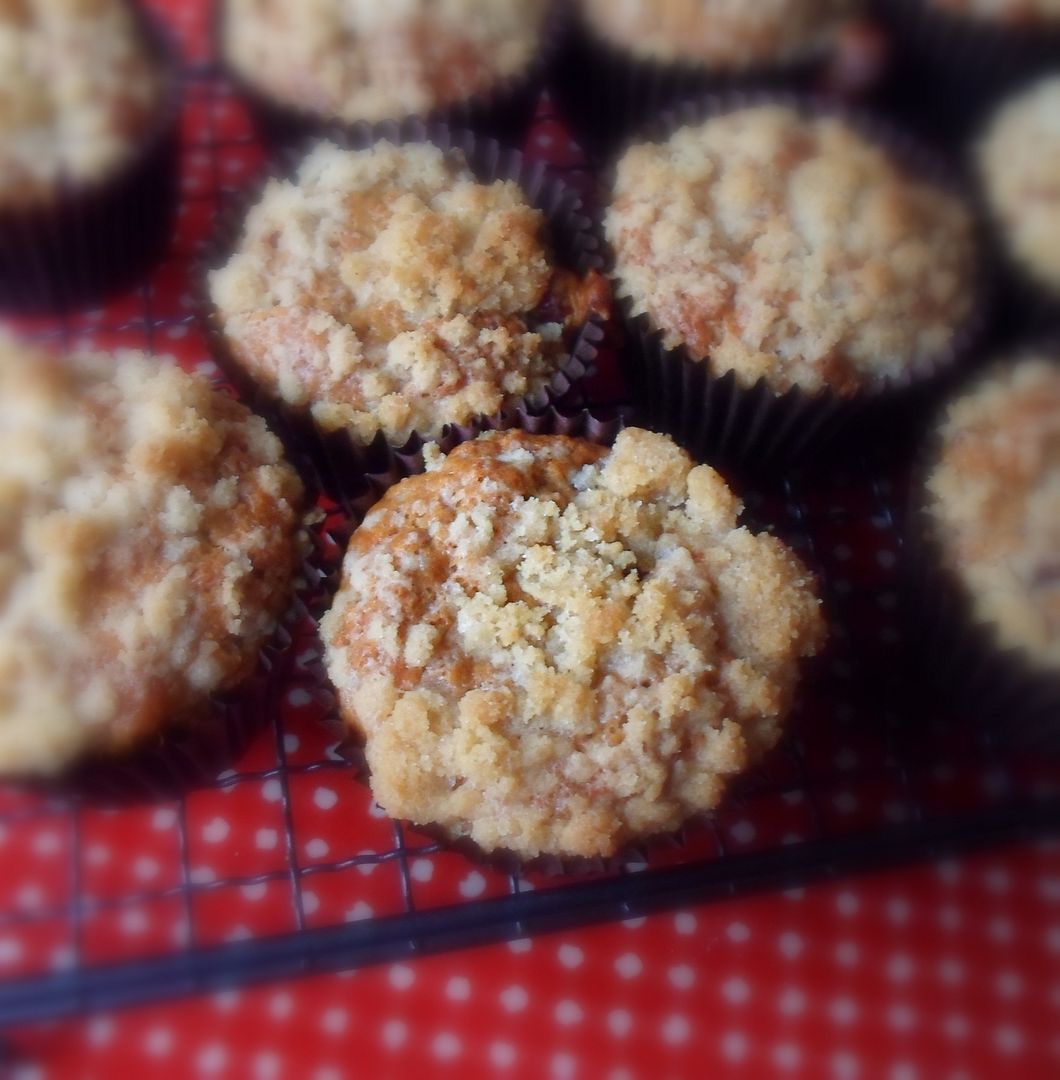 I chose to bake as my first muffin from the book, the Cranberry Orange Streusel Muffins and as you can see they turned out really lovely.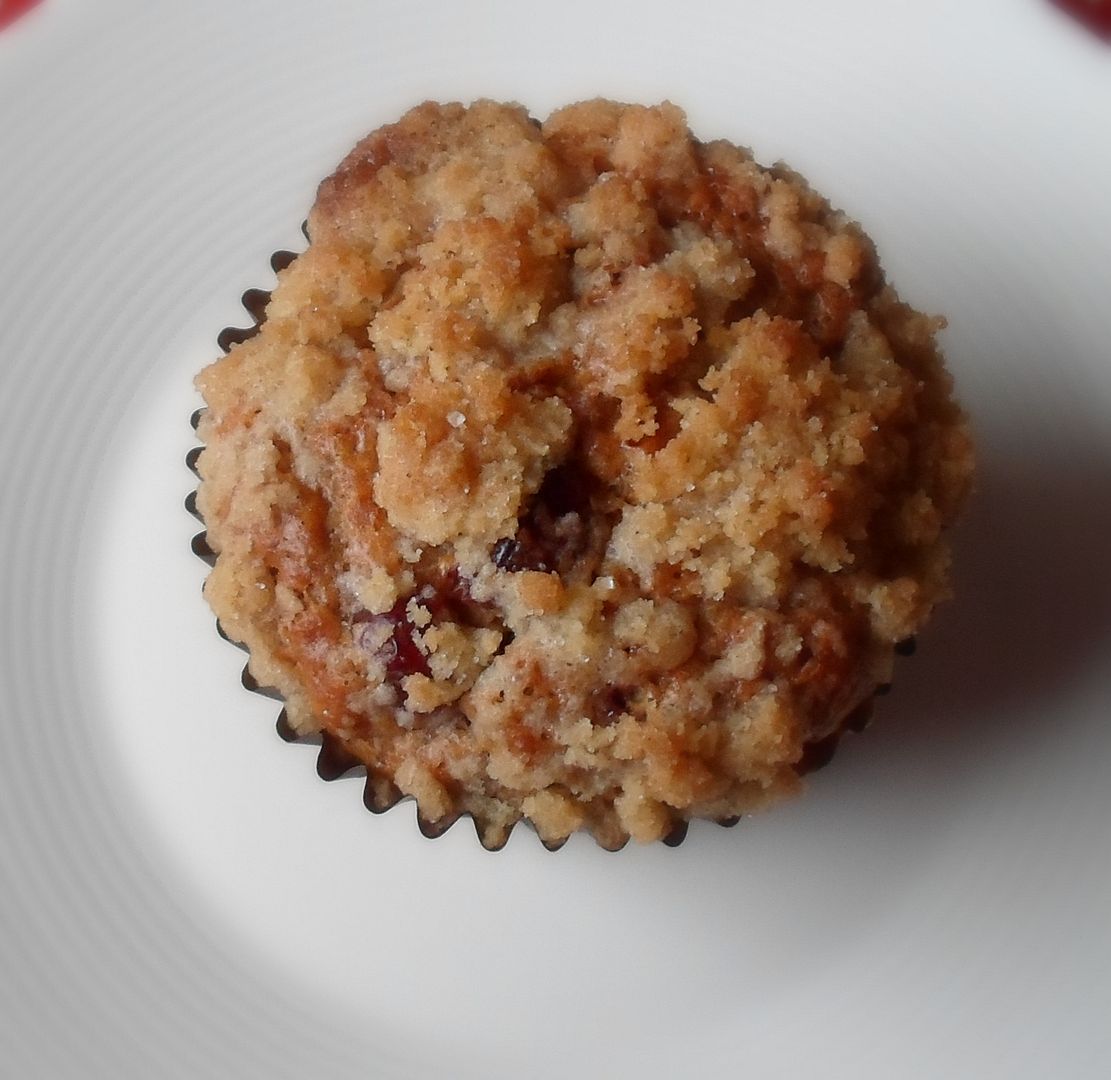 The instructions were very thorough and easy to follow and as you can see . . . they turned out beautifully. We rather quite enjoyed them a LOT! They were the perfect holiday muffin.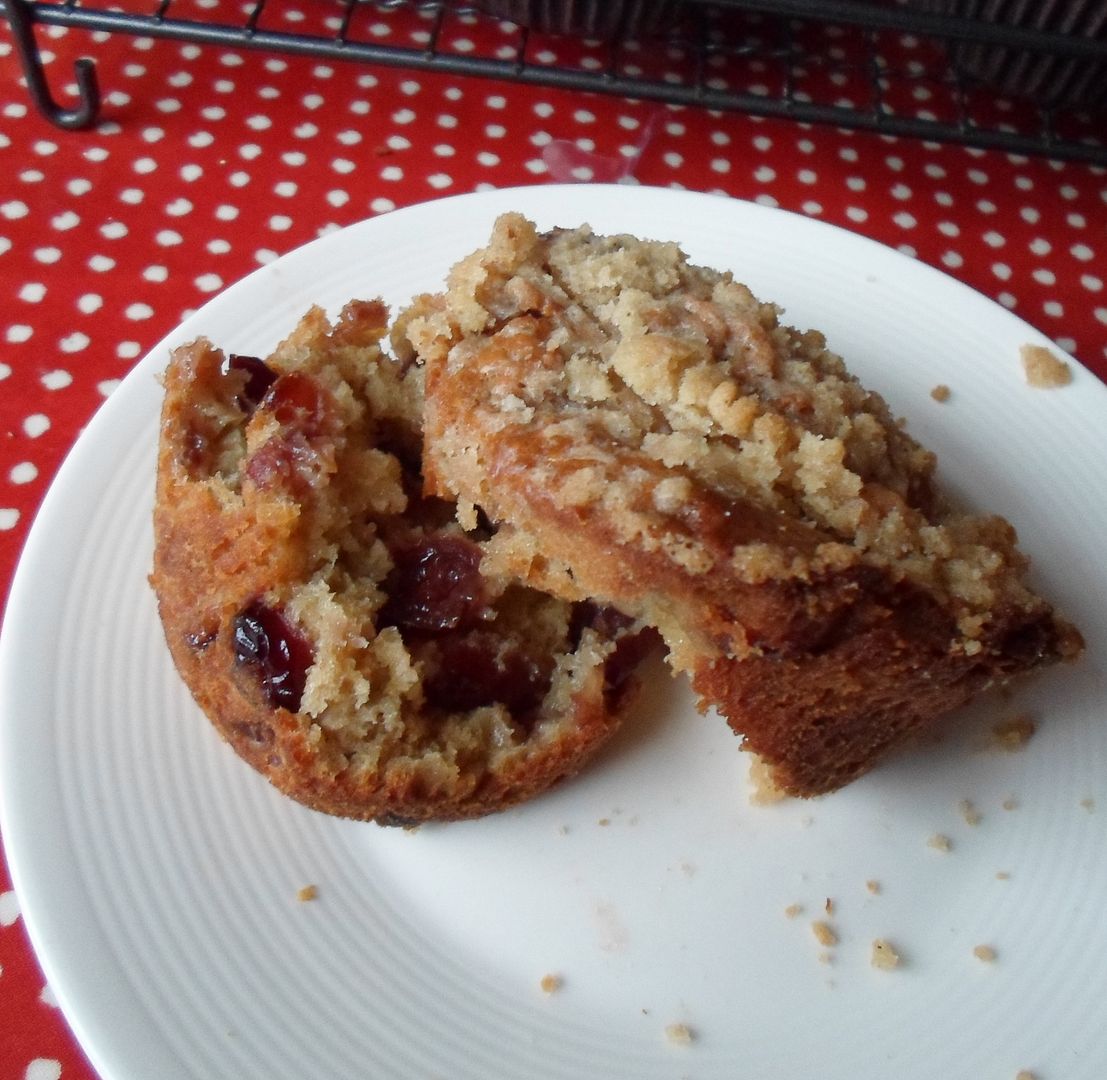 *Cranberry Orange Streusel Muffins*
Makes 18
Printable Recipe
Freshly squeezed orange juice and tangy cranberries make up these lovely muffins, capped with a delicious lightly spiced streusel crumble.
1 cup fresh orange juice (250ml)
1 cup dried cranberries (150g)
2 cups all purpose flour (200g plain)
1 tsp baking powder
3/4 tsp bicarbonate of soda
1/2 tsp salt
1/4 tsp cinnamon
1 cup packed soft light brown sugar (200g)
1/3 cup canola or vegetable oil (78ml)
1 tsp vanilla
1 TBS fresh orange zest
3/4 cup buttermilk (178ml)
2 medium free range eggs
1 recipe Streusel Crumble (see below)
Combine the orange juice and cranberries in a saucepan and bring to the boil. Remove from the heat and allow to cool completely. Strain the cranberries, Make the streusel crumble and set aside.
Preheat the oven to 180*C/350*F/ gas mark 5. Butter 18 medium muffin cups well, spray with nonstick spray, or line with paper liners. Set aside.
Sift together the flour, soda, baking powder, salt, cinnamon and brown sugar into a large bowl. Stir in the brown sugar. Whisk the buttermilk, orange zest, oil, vanilla and eggs together in a beaker. Add all at once to the flour mixture. Mix just to combine. Fold in the cranberries. Do not overmix.
Divide the mixture between the muffin cups. Sprinkle with the streusel crumble. Bake for 18 to 20 minutes, or until the tops spring back when lightly touched. Cool in the pan for several minutes before tipping out onto a wire rack to finish cooling. Enjoy warm.
*Streusel Crumble*
Makes enough for 18 muffins
1/2 cup all purpose flour (50g)
1/2 cup granulated sugar (95g)
1/8 tsp ground allspice
pinch salt
1/4 cup butter, chilled (4 TBS)
Combine the flour, sugar, allspice and salt together in a bowl. Using your fingers, rub in the butter until the mixture clumps and all the dry ingredients are coated with butter. Cover and chill for 10 minutes before use.
The cookbook itself is attractive, a hardback book with full-color photos of many of the muffins. I'm so pleased to have this cookbook as part of my collection and I highly recommend that you get
Moufflet
for your collection, too. 
ISBN -13: 978-1-4405-3892-6
ISBN-10: 1-4405-3892-1
$18.95 (CAN $19.99)
I have quite a few cookbooks in my collection actually. I've never actually counted them all . . . but there were (at last count) probably close to 1000. (Don't judge me.) I've been collecting cookbooks since I was about 16 and as I am now 57, that's a pretty long time. I do have my favourites and I wanted to show you one of those today . . . it also happens to be one of my oldest ones. In fact . . . this cookery book was published before I was even born.
This was a cookbook that my mother purchased in a library of housekeeping books back in the early 1950's. I remember devouring this book often when I was growing up (along with her high school Home Economics Text Book) and I have to say that it is pretty much the book which taught me a lot of my basic cooking skills. The Money Saving Cookbook, by Ida Bailey Allen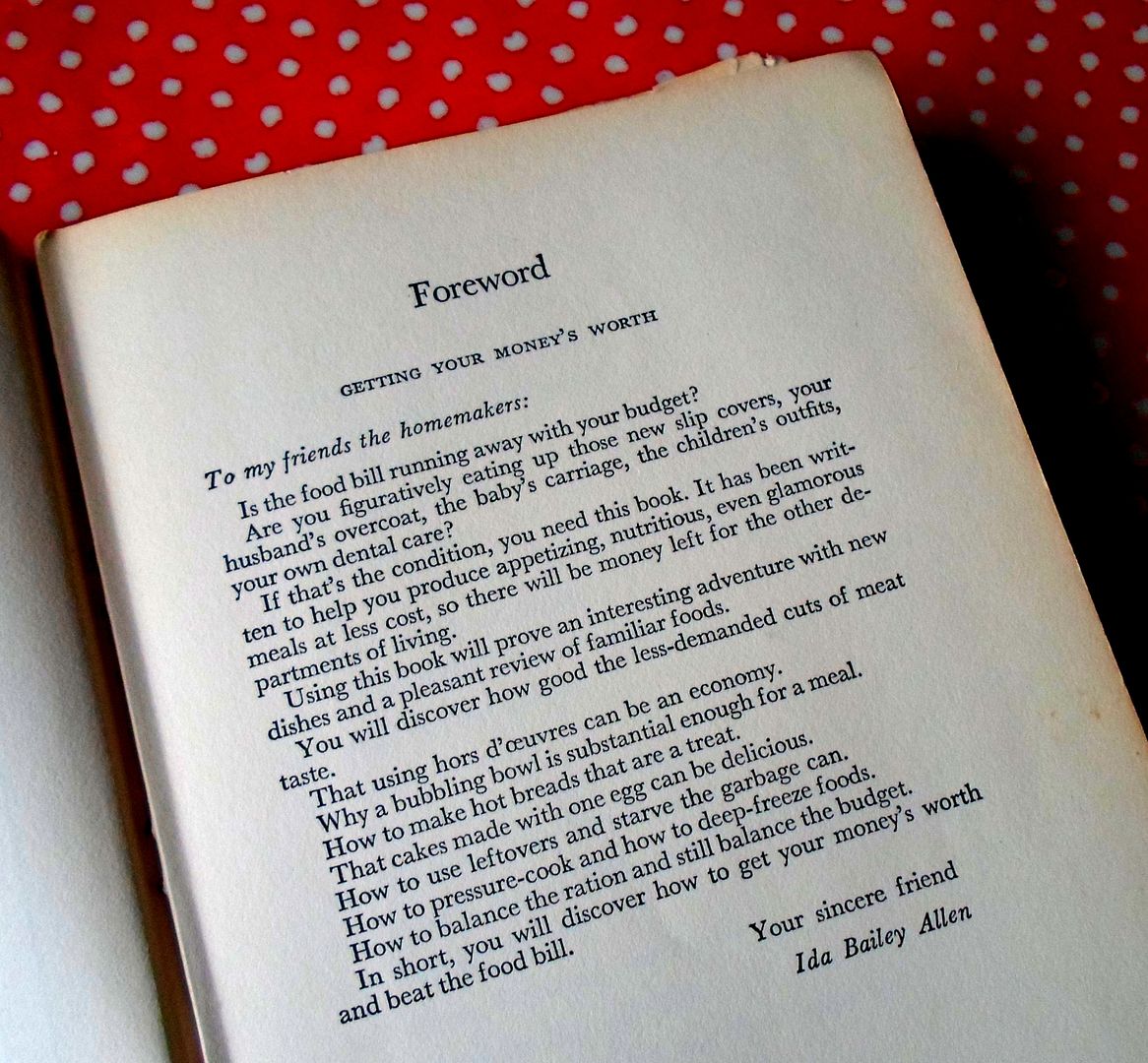 I love this foreword by Ida Bailey Allen. Who doesn't want to get their money's worth out of their grocery budget??? I know I've always tried to get as much bang for my money spent as possible.
Alot of people would take one look at this book and cast it aside. Admittedly it's not much to look at . . . and really some of the instructions are a bit outdated . . . I would never, for instance, cook broccoli for 15 to 20 minutes! But with a bit of common sense and a touch of experience and skill, this cookbook is a real gem.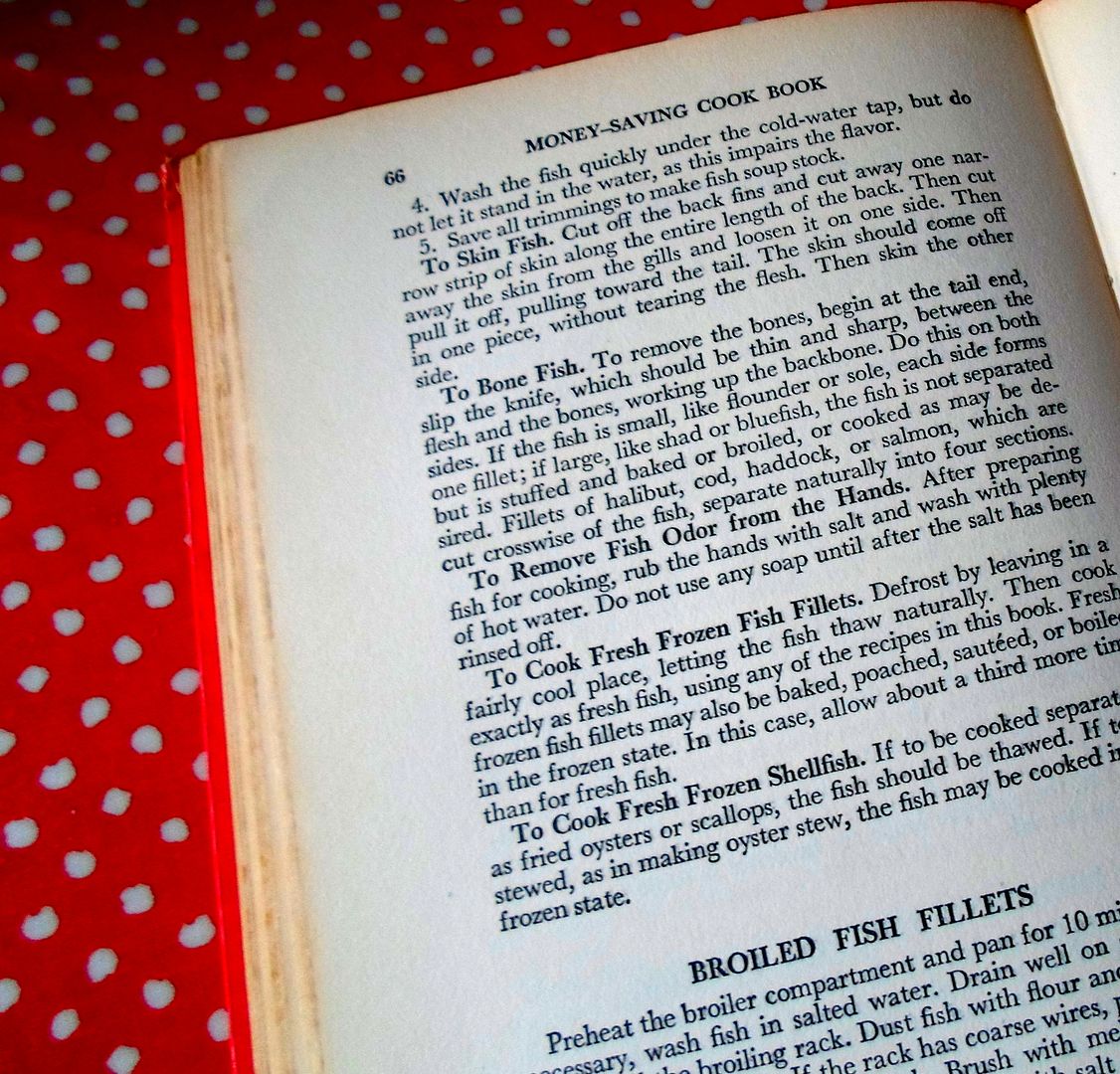 Whilst some of the cooking times are a bit outdated, it is filled with a wealth of information about other things, such as how to bone or skin a fish . . . or how to roast a turkey perfectly, and a whole lot of other delicious and handy information.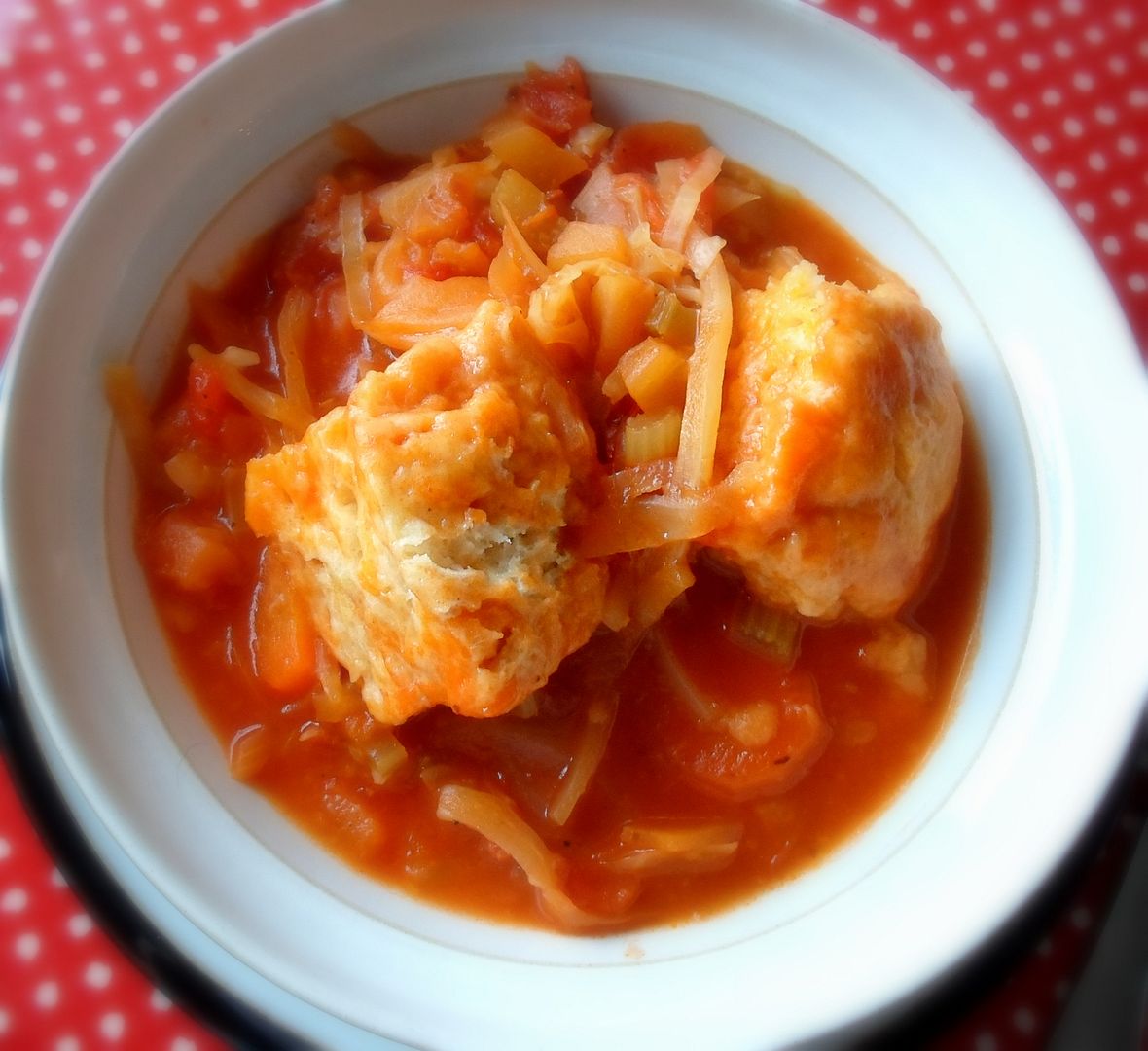 There are fabulously tasty and economical recipes in this book, like this tasty Vegetable Stew with Cheese Puff Dumplings that I made for our supper today.
With just a few vegetables . . . carrots, celery, cabbage, onion, tinned tomatoes and surprisingly a chopped apple . . . I ended up with a delicious fabulously thick stew . . . I did add some balsamic vinegar, a quite modern ingredient . . . but I thought where it called for caramlizing a bit of sugar at the beginning a bit of vinegar would go down well . . .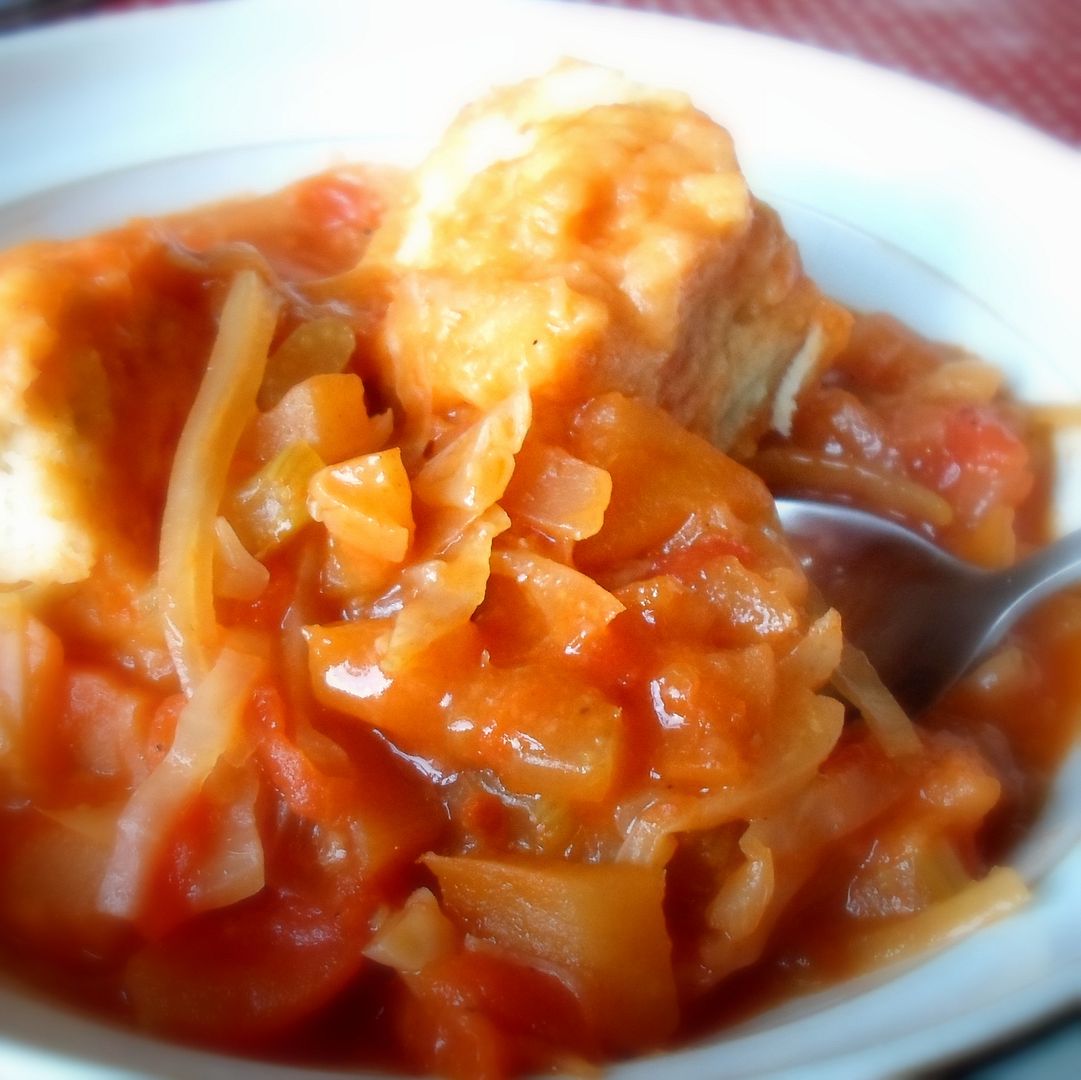 I was not wrong. This was delicious . . . and what made it even tastier and more rib sticking . . .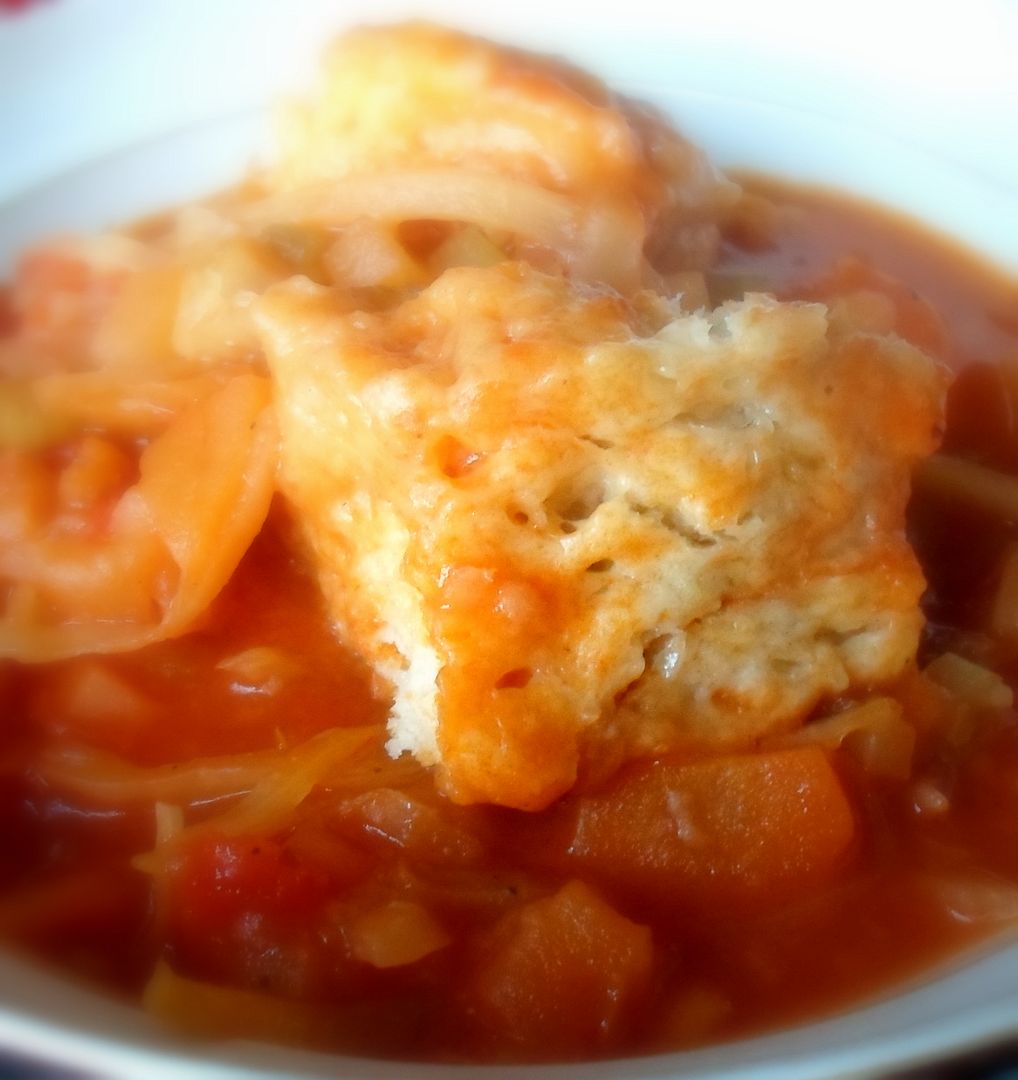 was that tasty topping of Cheese Puffed Dumplings . . . say that slowly . . . Cheese . . . Puffed . . . Dumplings. Doesn't that sound utterly scrummy???
They absolutely were. I hope you'll try this recipe out and I think that when you do you will agree with me wholeheartedly . . . it may be an almost 60 year old recipe, but it's a winner winner/chicken dinner!
*Vegetable Stew with Cheese Puff Dumplings*
Serves 4
Printable Recipe
Comforting and quite tasty.
1 1/2 tsp sugar
4 TBS butter
2 medium carrots, peeled and sliced
1 medium onion, peeled, cut in half and thinly sliced
2 cups shredded white cabbage (1/3 of a small head)
2 stalks of celery, diced
1/2 of a small swede, peeled and chopped
1 medium eating apple, peeled and diced, core discarded
400g tin of chopped plum tomatoes, undrained (2 1/2 cups)
2 1/2 tins of water
1 vegetable stock pot
fine sea salt and black pepper to taste
splash of balsamic vinegar
few grains of cayenne pepper
For the dumplings:
200g of plain flour (2 cups)
4 tsp baking powder
pinch salt
1 TBS white vegetable fat
2 ounces grated strong cheddar cheese (1/2 cup)
180ml of milk (3/4 cup, you may not need it all, or you may need more)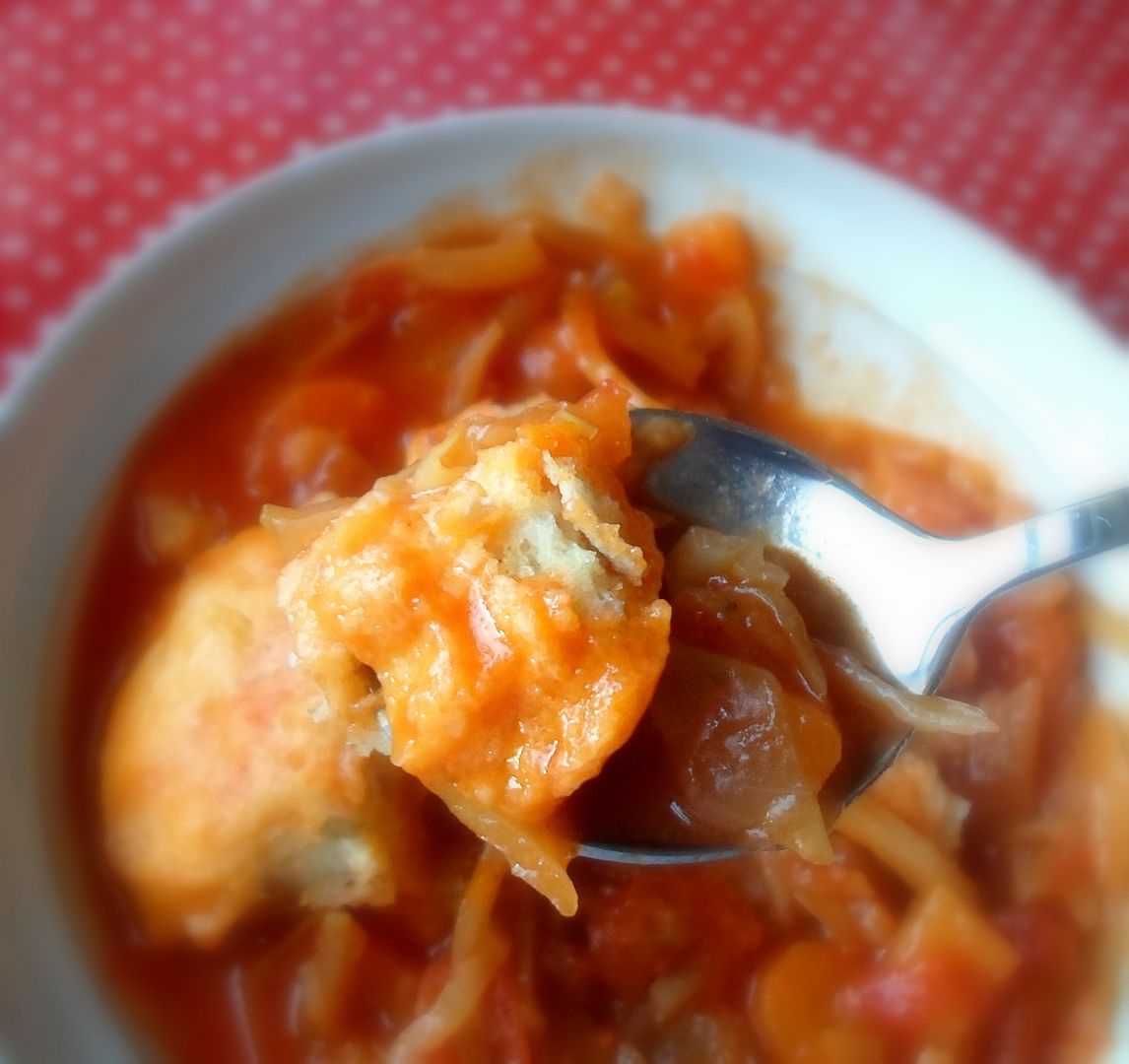 Measure the sugar into a large saucepan. Heat over medium heat until it begins to caramelize and turn dark brown. Add the butter all at once and stir to melt. Add all of the vegetables, stirring, and cook until they are lightly browned, stirring occasionally. Add the apple, tomatoes, water, stock pot, vinegar and seasonings. Cover and simmer for about 40 minutes, or until very tender.
To make the cheese dumplings, whisk together the flour, baking powder and a pinch of salt. Rub in the fat until crumbly. Stir in the cheese and then add milk to give you a thick dough which you can roll out.. Roll out to 1/2 inch thick on a lightly floured board. Cut into rounds or squares as desired using a sharp biscuit cutter. Drop on top of the bubbling stew, cover tightly and cook for a further 20 minutes. Restrain yourself from peeking. They are done when they look set and glossy on top and you can see air bubbles in them.
Ladle the stew out into heated bowls, topping each serving with a dumpling or two.
DO try this. You won't be sorry! Cheap and cheerful, filling, nutritious
and
economical.
And now for the winner of the
Innocent Drinks
Smoothie Vouchers Competition . . . Big Drum Roll . . .
Lynn said...

Happy New Year, I love Innocent smoothies, they make a great quick and easy breakfast when I'm running late or a tasty snack.

Lynn, if you could please send me your contact details, I will pass them onto the Innocent people and your vouchers will soon be winging their way to you. Congratulations!