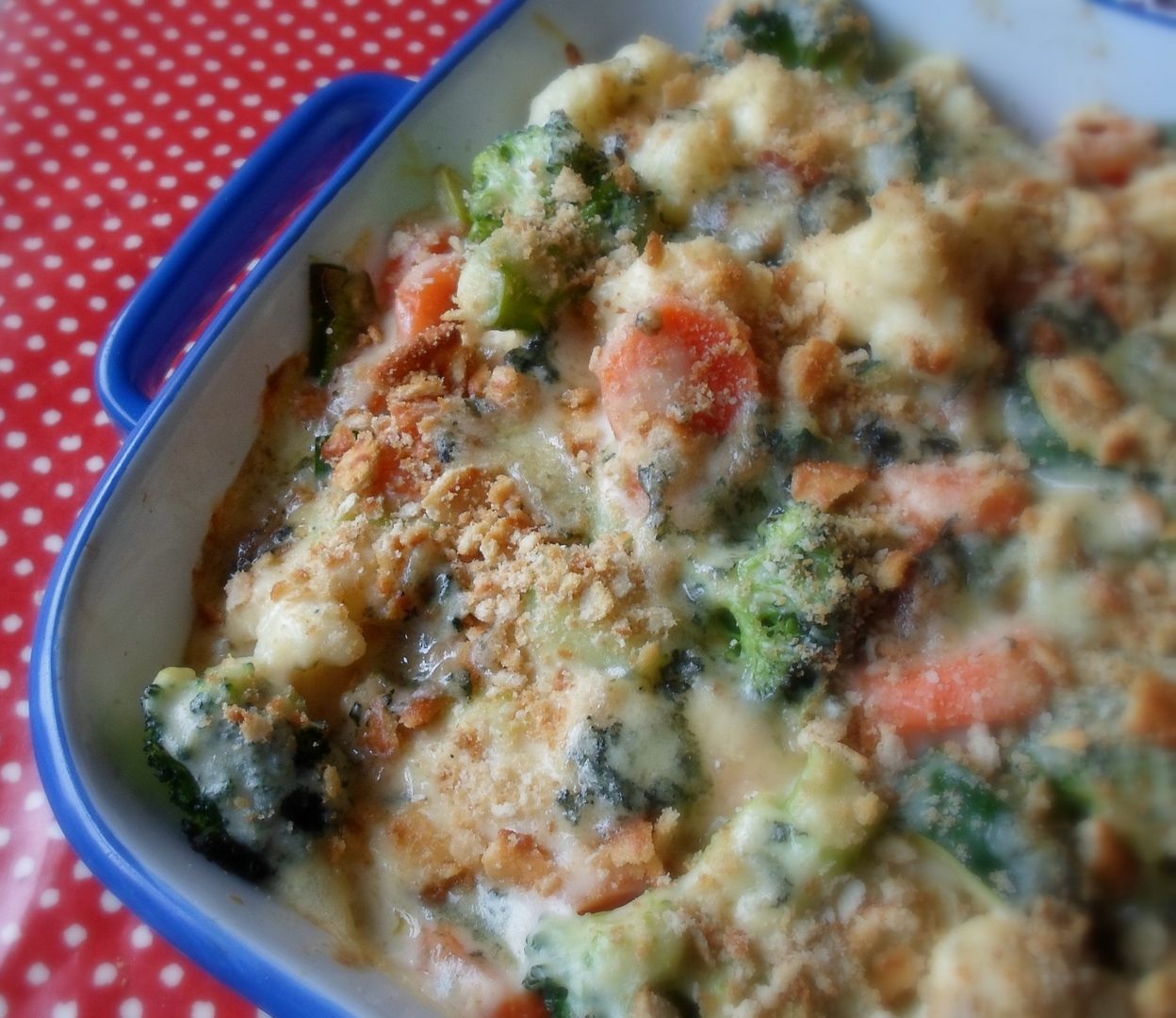 I am a real vegetable lover. I could eat nothing but vegetables and be perfectly happy for the rest of my life . . . seriously! Ok . . . I might miss a good steak once in a while, but vegetables do make me very happy.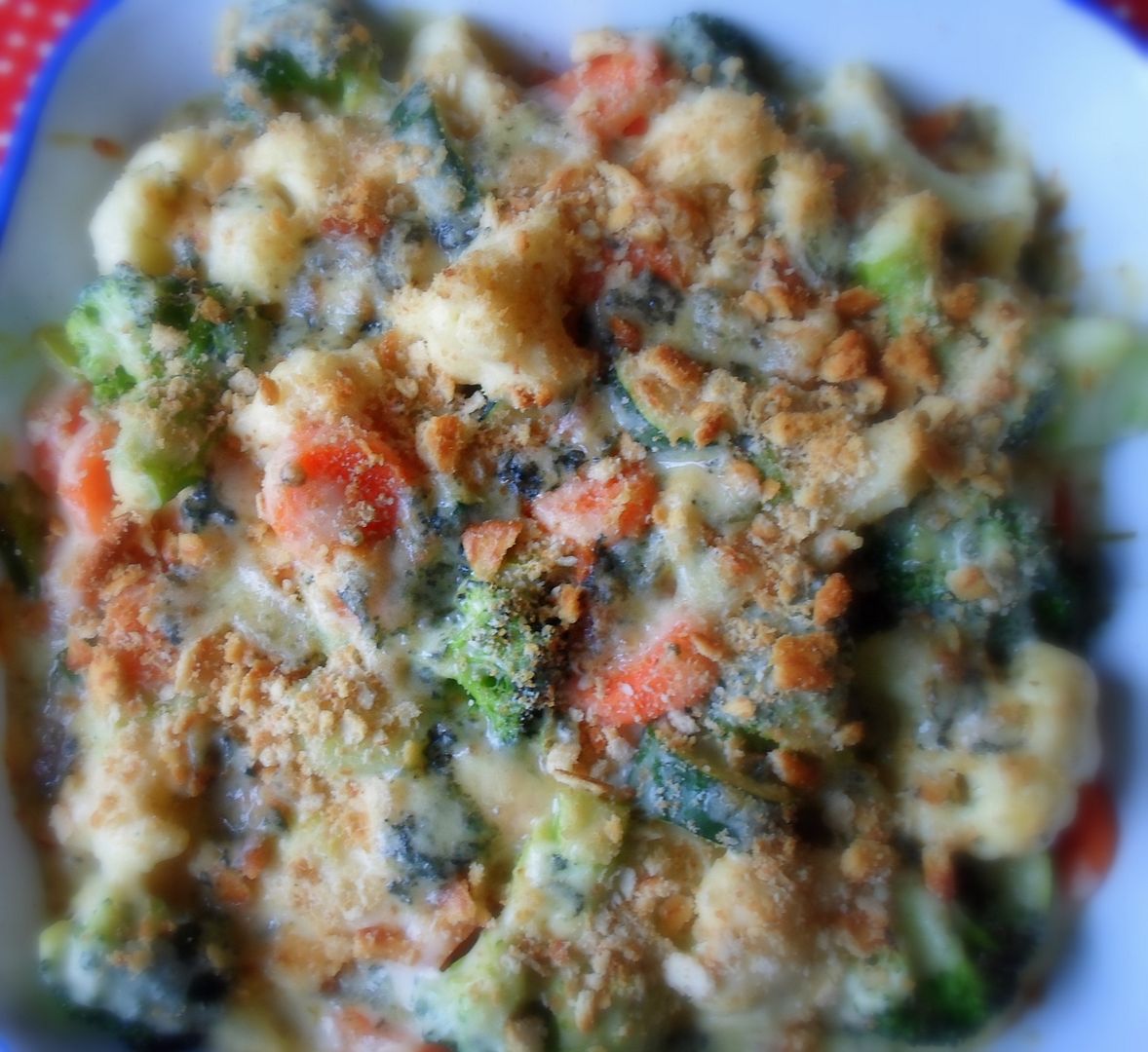 I actually crave them. It's totally true. If I don't have at least one or two a day . . . something vital is missing from my life, and I'm not talking potatoes here! (Although for sure Potatoes are a real favourite of both of ours!)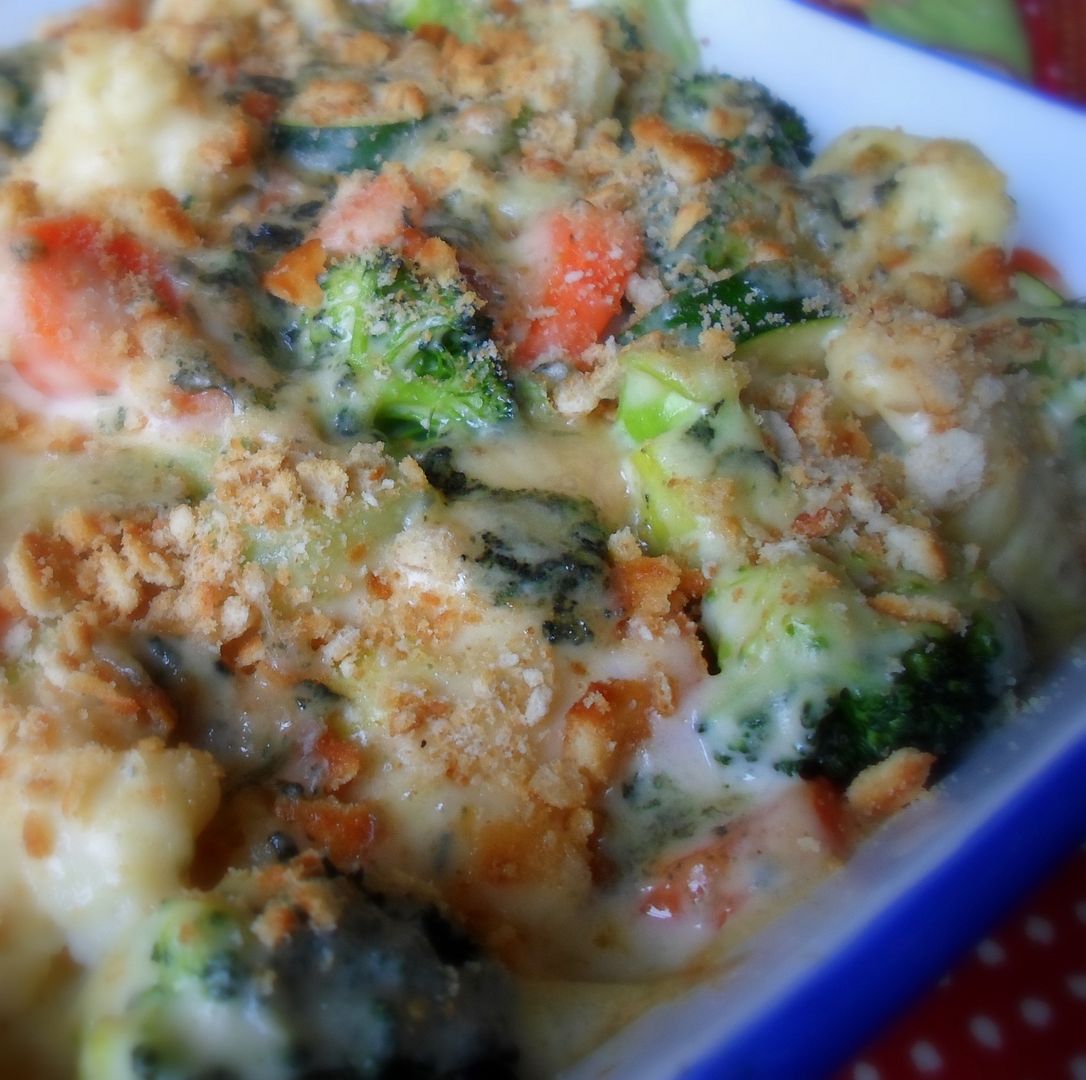 This delicious casserole is a fabulous way of getting in several of your five a day, and is very easy to make. You could use thawed frozen vegetables, or a thawed frozen vegetable mix, but I get a special kick out of doing my own vegetables. I'm kind of odd that way I suppose. . .
You end up with a tasty mixture of crispy tender carrots, broccoli, cauliflower, courgettes and leeks . . . underneath a tasty gratin sauce and a blanket of crispy crumb and melted Blue Stilton . . . because . . . we like it that way. (Plus it is a good way to use up some of that leftover Christmas Stilton!)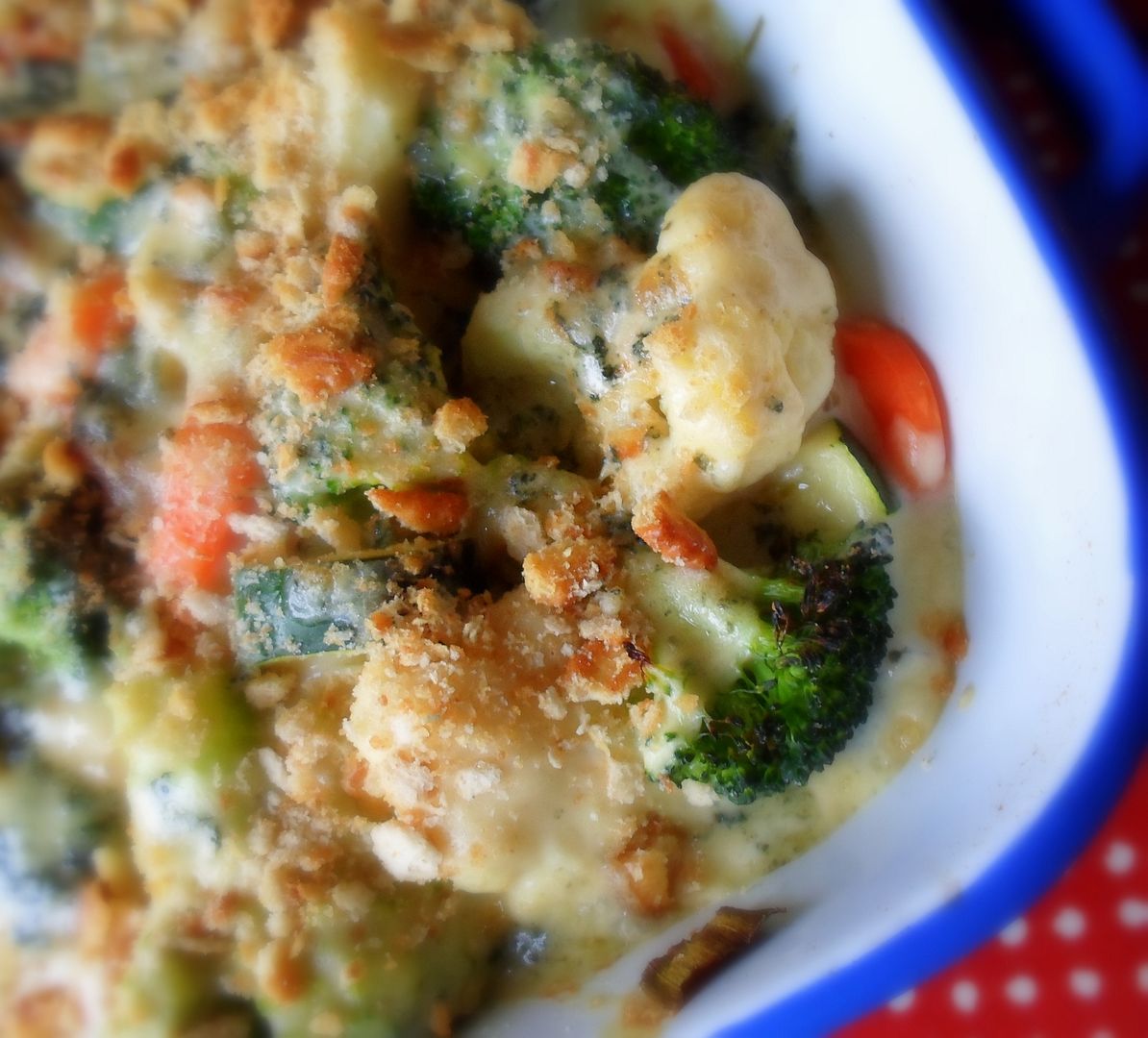 And it tastes good. The perfect side dish for your New Year Supper, or any supper. Or, if you are like me . . . just the
whole
supper. With a few slices of crusty whole meal bread and some butter . . . tis very, very satisfying. (If you are serving it as a main, it will only feed 3 or 4 depending on appetites. As a main I would serve some barley or brown rice with it.)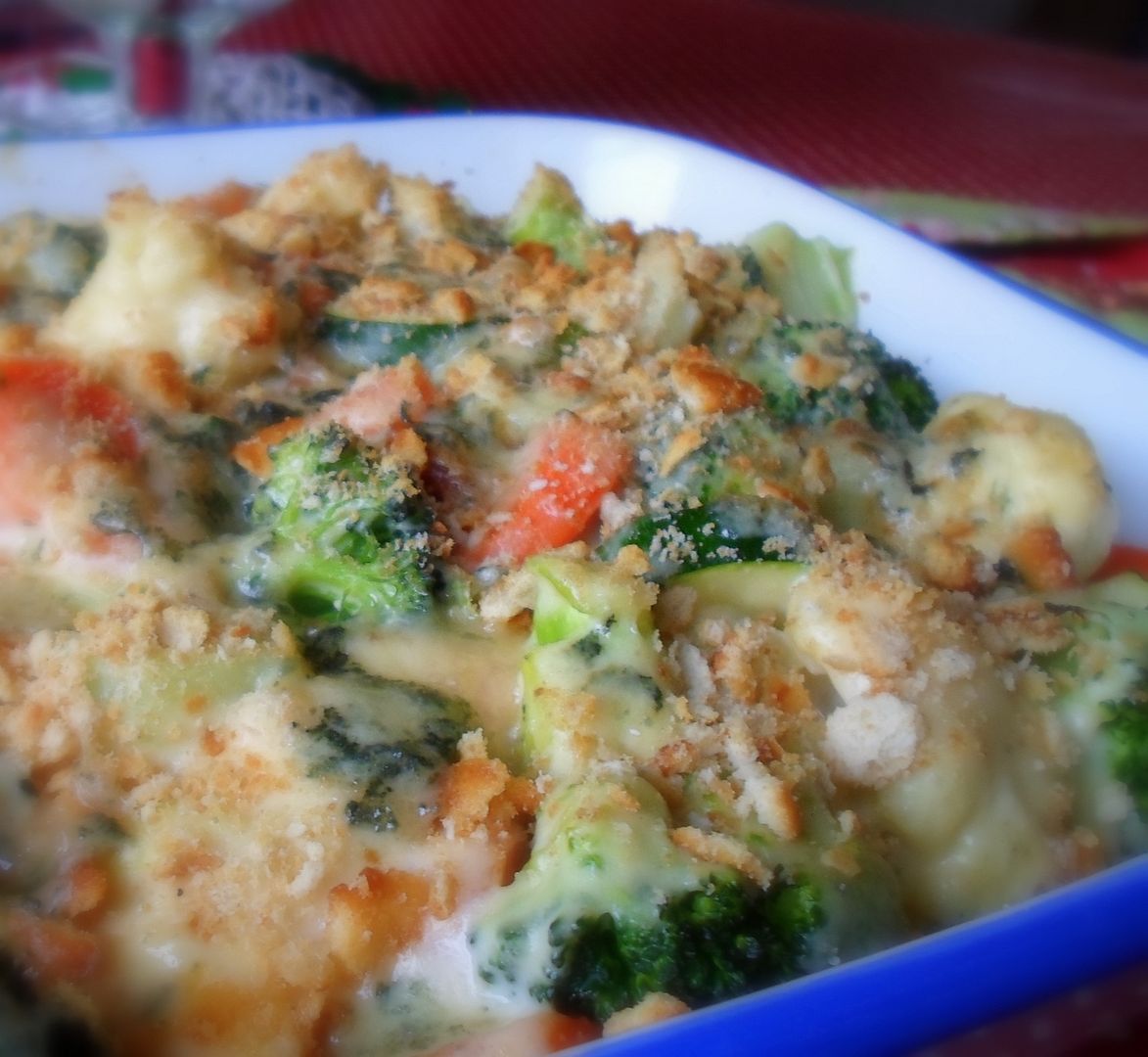 *Winter Vegetable Casserole*
Serves 6 to 8 as a side dish
Printable Recipe
A delicious way to get in a few of your "Five a Day!" Easy and economical and doesn't use cream soup.
1 medium cauliflower, trimmed and broken into florets
1 medium head of broccoli, trimmed and broken in florets
2 medium carrots, peeled and sliced into 1/4 inch coins
1 medium courgette, washed, trimmed, cut into half moons, 1/2 inch thick
1 medium leek, trimmed, washed and sliced into 1/2 inch pieces
For the sauce:
4 TBS butter
25g of plain flour (1/4 cup)
1 chicken stock pot (or the equivalent of chicken boullion powder)
500ml of milk (2 cups)
1 TBS Dijon mustard
salt and black pepper taste
a handful of crushed round buttery crackers
a handful of crumbled Blue Stilton Cheese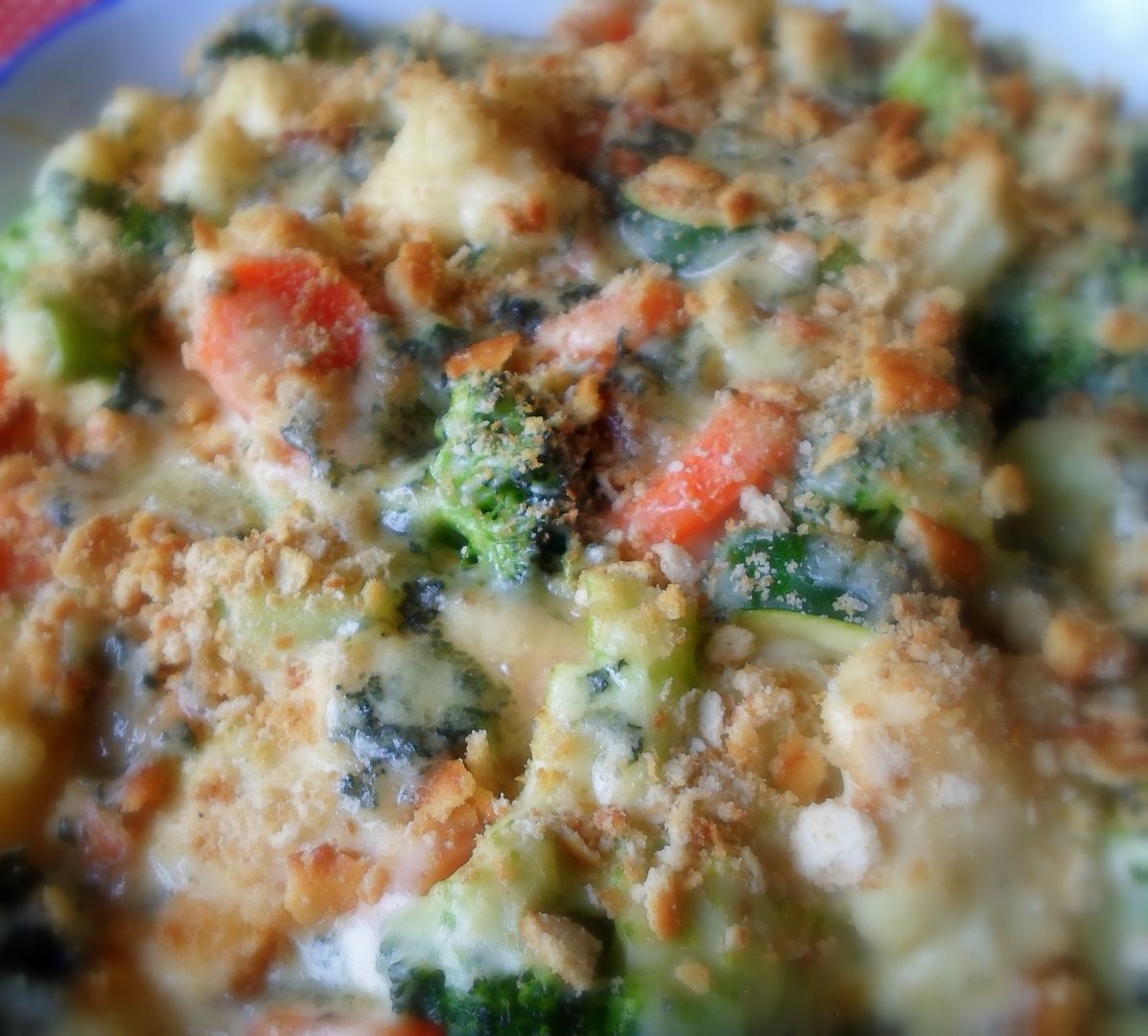 Bring a large pot of lightly salted water to the boil. Drop in the cauliflower. Cook until crispy tender, then scoop out and drain. Set aside. Repeat with the remaining vegetables, cooking them one at a time, just until crispy tender and allowing to drain well. Discard water.
Using the same pot, melt the butter. Once it begins to foam. Add the flour. Cook and stir for one minute. Whisk in the Dijon mustard and then the milk. Cook, whisking constantly until the mixture bubbles and thickens. Whisk in the stock pot. Taste and adjust seasoning with salt and pepper as desired.
Preheat the oven to 180*C/350*F/ gas mark 5. Butter a 9 inch square deep casserole dish. Toss the well drained vegetables together and spread them in the prepared baking dish. Pour the sauce evenly over top of all. Sprinkle with the crushed crackers and the crumbled Stilton cheese.
Bake for 20 to 25 minutes, or until the casserole is bubbling and nicely golden on top. Allow to sit for about 5 minutes before serving.
Along with the Brand New Year I am happy to offer today a delightful Giveaway from
Innocent Drinks.
Once we get all the over-doing it of the Holidays over with, January is a time to try cutting back and making up for all of our excesses. January is the month for new beginnings and there is no better way to go about that than by pumping up the exercise and eating a bit healthier!
With the New Year,
Innocent Drinks
are beginning a new initiative to help get you back on track and beat the January Blahs!! If you click over to
their site
you can see where they have created some really useful ways to look after your mind, body and soul . . . because healthy isn't
just
about getting in your five a day . . . but looking after the other stuff as well. And with that in mind, I am offering one of my readers, courtesy of
Innocent Drinks
, a couple of months of Innocent Smoothies, in the form of redeemable vouchers. To get in on the giveaway, you only need to be a resident of the UK and leave a comment at the end of this post.
Tone and hone your bottom with the Buns of Steel workout, feel great with the Dot of Positivity, or simply Click Yourself Happy . . . all without leaving your desk! Click
HERE.
Each innocent smoothie is made of pure crushed fruits and juices, containing 2 of your 5-a-day, making them an incredibly tasty way to do yourself some good and beat January. My personal favourite is the Kiwi Apple and Lime! So tasty and refreshing. I love to think I'm doing something good for myself, and enjoying it at the same time!
So, just
leave a comment
at the end of this post and I will pick a winner on
Friday
of this week. Spread the news. The more the merrier. Many thanks to
Innocent
for hosting this fun giveaway and helping us to get the new year off on the right footing!