I was recently sent some products from a company called
A Slice of Green
to try out. A Slice of Green is a company which specializes in selling ethical products online. Products which are designed to help its customers live a more sustainable life and to embrace the * Reduce – Reuse – Recycle * ethos. It is a one-stop shop for everything you need to help you live a more sustainable life, without having to compromise your sense of style. To this end they have sourced a wide range of practical and innovative products to help their customers on this journey, including both products that are designed to reduce waste, as well as encouraging reuse, and products made from sustainable or recycled materials. Everything they sell is free from nasties such as BPA, phthalates and lead, and they also sell a lot of plastic-free products.
I was sent a set of six cotton reusable napkins, and a Divided medium square stainless steel container. Both items would be great for taking on picnics!
The
COTTON NAPKINS
come in a set of six
,
and are the perfect alternative to the paper variety, and are not all that expensive, at only £3 for the lot. You can use them again and again and again, so over time they will actually save you money as well as helping towards saving the environment. They are also great for those work a six day week, giving you one to take along for your packed lunch each day of work. They are a Fair Trade and Sustainable product from a company called Keep Leaf.
The factory that produces Keep Leaf products is fully committed to being part of The Ethical Trading Initiative (ETI) - a ground-breaking alliance of companies, trade unions and voluntary organisations. They work in partnership to improve the lives of poor and vulnerable workers across the globe who make or grow consumer goods - everything from tea to T-shirts, from flowers to footballs. The companies committed to this initiative adopt a code of labour practice that they expect all their suppliers to work towards. Such codes address issues like wages, hours of work, health and safety and the right to join free trade unions.
Keep Leaf was founded by Jaswinder Sahl, a mother from Toronto with a passion for textiles and design. With a growing concern for our environment and a compelling desire to reduce her carbon footprint, Jas promptly began developing products that facilitate the now imperative, environmentally conscious lifestyle. Keep Leaf is based on her belief that you do not have to compromise on quality and style to observe responsible, sustainable practices and the result is a range of speciality reusable products that are premium quality, modern, chic, easy to use and well priced. Jas knows that in order for consumers to choose reusable over the convenience of disposable, the reusable product must entice with more than just its green credentials.
Asked what makes Keep Leaf's products unique, Jas points to the company's playful aesthetic. "That's what really sets Keep Leaf apart," she said. "There is a sense of fun to it. There's lots of colour. It's very stylish. With our new products, we're continuing that philosophy – to make sure that going green is not boring. That it's fun and chic."
These were attractive, easy to use and washed very well, although some ironing is required due to the nature of them being made from cotton.
The
MEDIUM SQUARE TO GO
Container is the perfect container for those who bring their lunches to work or school each day. Taking lunch into work is definitely something that more and more people are starting to do. It is a great way of saving money, reducing packaging waste and also using up leftovers. However very few 'lunch kit' products are designed for adults or have any sort of style about them. That is why we were so pleased to find the U-Konserve range of high quality, practical products with a definite fashion edge.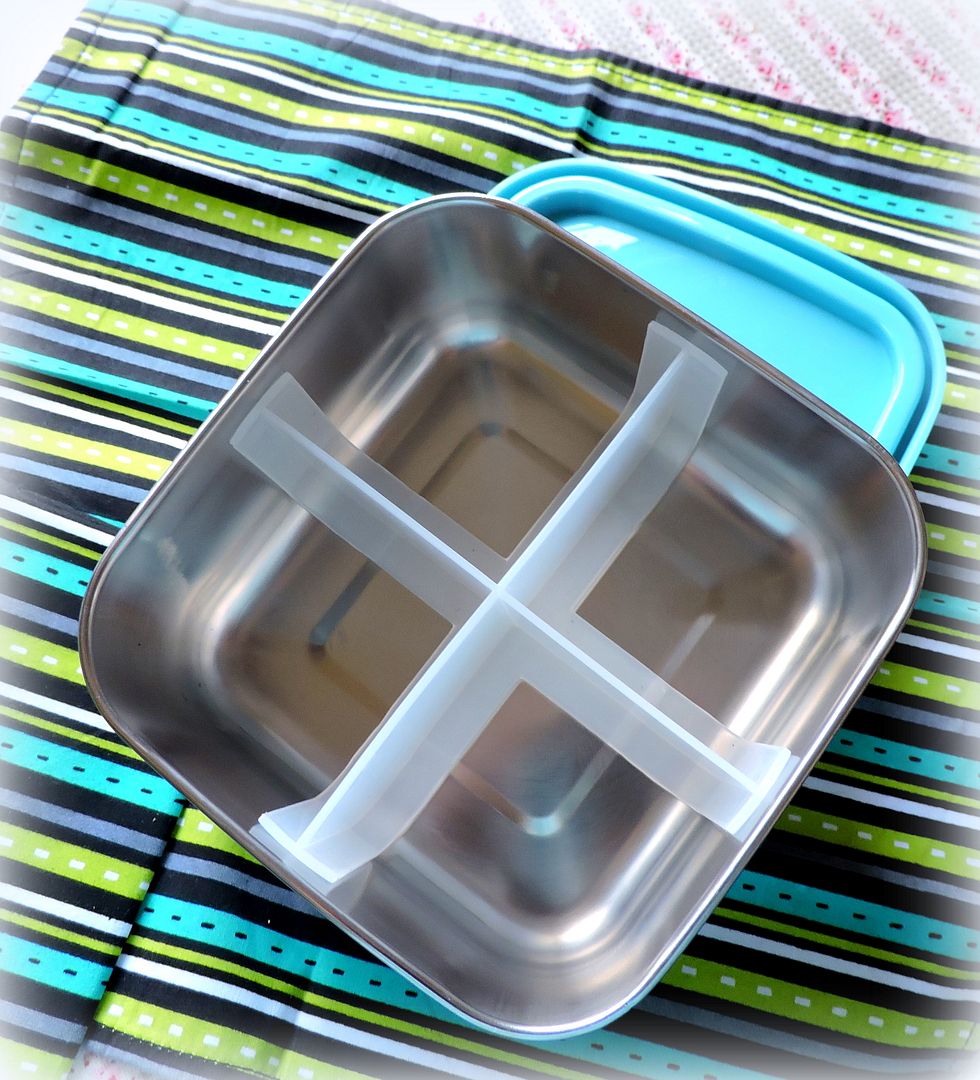 This square, stainless steel container is made from #304 (18/8) food-grade stainless steel and comes with a light blue leak proof #4 LDPE lid (LDPE is low density polyethylene which is widely recyclable). It also has a cross shaped removable divider providing your container with four seperate compartments making it perfect for taking fruit, nuts, sushi and snacks into work or for storing leftovers in the fridge. It is also dishwasher safe.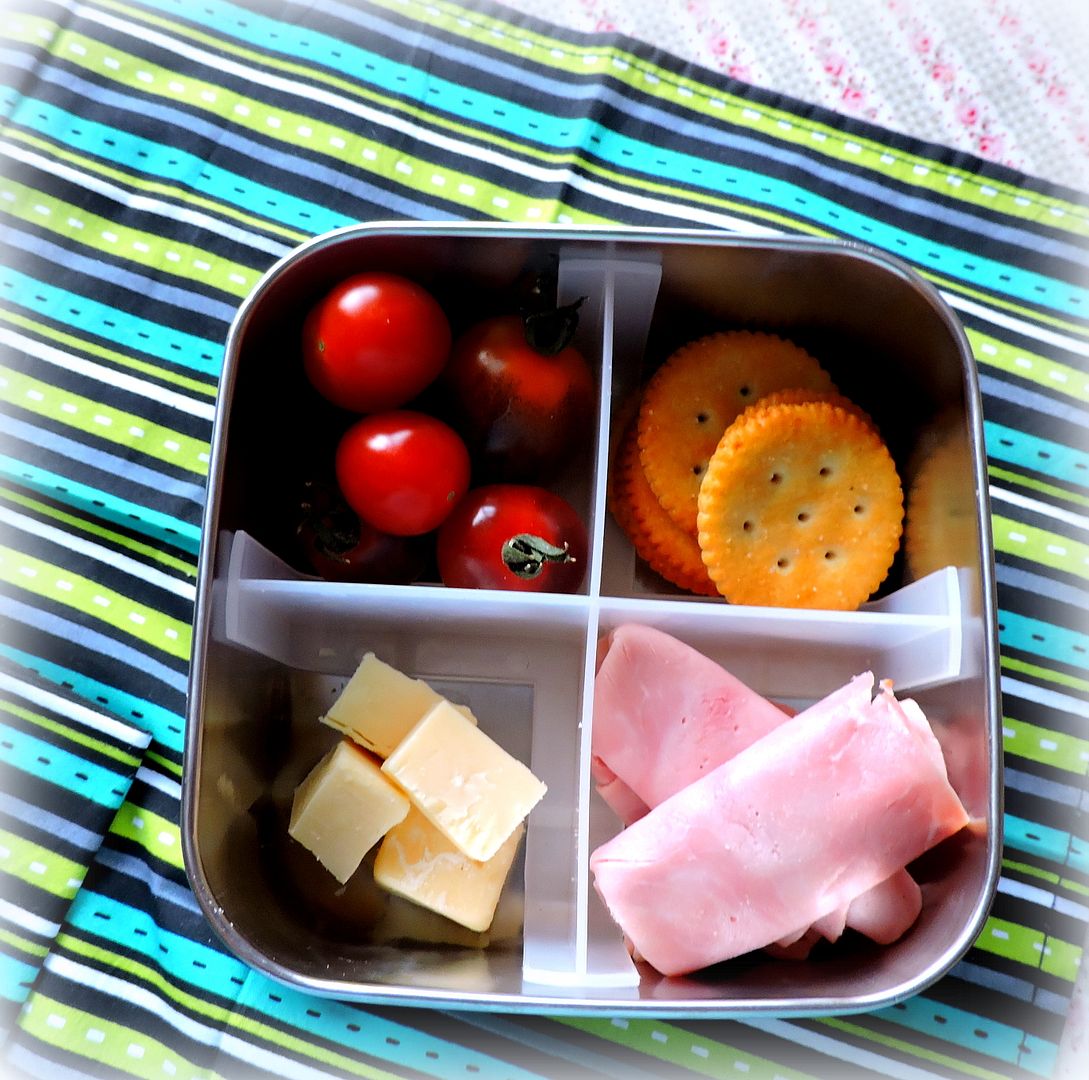 My children were always fans of those children's lunch set that you could buy pre-packaged in which they got some crackers, cheese and either turkey or ham in them. This handy container provides space to do all of that plus an extra space so that you can get in one of their five a day as either a fruit or a vegetable.
Handy not just for children however, as an adult this container is also the perfect size to use for toting a healthy lunch back and forth to work. This was easy to use and easy to clean, and the insert worked perfectly at keeping things separated from each other. Its a bit pricey at £17, but again over time this product will pay for itself many times over. I am saving up now to buy a second one for Todd so that we can both have one to take on picnics.
Kids Konserve & U-Konserve offer high-quality, long-lasting products that promote sustainability and health, and inherently strive to reduce the millions of tons of waste associated with single-serving packaged foods and plastic bottles.
The complete range is made from the safest, non-leaching, non-toxic, BPA, PVC, phthalate, and lead-free materials - a mouthful, but true! Lead, BPA, PVC, and phthalates are substances that are known to be harmful to our bodies with repeated exposure. The Company also strives to use recycled materials as much as possible, and many of their products are recyclable. The products also meet the standards of the U.S. Food and Drug Administration (FDA). The FDA is responsible for ensuring safety of all food packaging and food contact substances. Through the Centre for Food Safety and Applied Nutrition (CFSAN), the FDA regulates food contact materials to ensure they are safe for intended use. < br /> All the stainless steel containers are made of 304 food grade stainless steel solutions as it is proven to be the safest material to house food in.
Kids Konserve & U-Konserve offer a range of waste-free and reusable lunch packing for work, school, travel and life.
The Company was founded by Lynn Julian and Chance Claxton back in 2008 after they saw how much lunch waste their children's schools were generating each day. As well as contributing to landfill and pollutants they also felt this was sending the wrong message to the children. Kids Konserve came out of their desire to set an example of conservation for their children as well to empower them to be examples of change for the future. U-Konserve was later introduced as a range more appealing to adults as well as children.
All products are responsibly made in China, India and Taiwan in facilities that are working toward green practices, and are supportive of their mission to reduce waste. Independent agencies audit the working conditions and environmental impact to ensure that the facilities adhere to fair and safe labour practices and environmental standards.
What did I like about A Slice of Green and their service:
I loved that the good arrived in re-cycled/re-used packaging, from the cardboard box on the outside to the plastic bags holding the goods inside. As a person who deeply cares about our environment I loved the ethos of the company and the fact that they care right down to the packaging to make sure that there is no waste involved in any area. This is a great thing. I am always very annoyed when I get something and it has been posted in a box that is far too big to hold it and has been stuffed full of excess paper/padding packaging to fill up all that empty space.
Both brands are heavily focused on sustainability and helping their customers to lead a 'greener' lifestyle.
Follow them on Instagram
Many thanks to Slice of Green for sending me these products to try out

!



Note - Although I was sent product to try free of charge, any and all opinions are my own. I was not required to write a positive review in exchange.